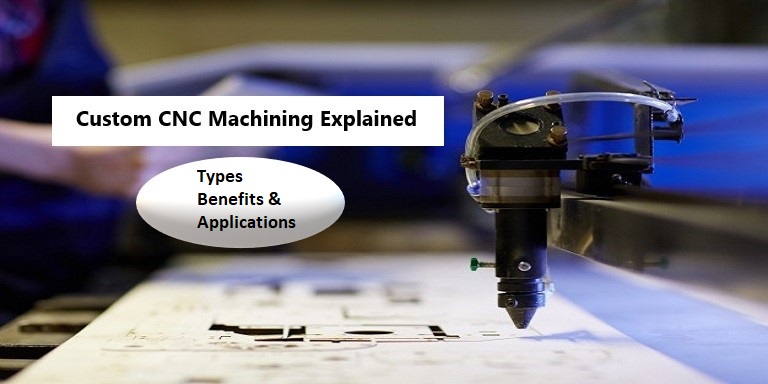 Computer Numerical Controlled (CNC) machining has been popular among fabricators and OEMs for several years now. It is one of the widely employed manufacturing processes where high-speed automated cutting tools are used to create plastic and metal parts in the desired shapes. In recent years, custom CNC machining has gained traction. This term may imply any type of CNC machining, which is employed to produce parts in non-standard sizes and materials. This type of machining may involve CNC milling, turning, or EDM machining. Having said that, you may have several questions regarding the effectiveness of this type of machining. This post aims to answer these questions and more.
Types of Custom Machining Processes
Custom machining is required to create parts with special requirements. The following are a few common types of machining techniques employed.
CNC Turning and Milling:

In turning, the metal bar and rod are rotated and cut using a CNC-operated cutting tool. However, CNC milling is used to turn and drill metals and plastics.

CNC Swiss Machining:

In this type of machining, the stock is fed through a guide bushing to shape the material. CNC Swiss Machining is suited for long and slender parts.

Plastic Parts Machining:

This refers to a wide range of machining processes, where precise parts are created from various types of plastic materials by employing different CNC machining techniques.
Why Do You Need Custom CNC Machined Parts
You will require custom CNC machined parts in the following scenarios.
The part under consideration is not available as an off-the-shelf item or catalog item.
The part needs to be machined in special dimensions.
The part volume is too low.
High level of precision and accuracy is required.
The parts need to be delivered in short turnaround times.
Benefits of Choosing Custom CNC Machining
There are several benefits of choosing custom CNC machining over standard CNC machining. The following are a few common among them.
Ability to Produce Parts That Fit Your Application:

Precision has never been a concern with CNC machining; however, making the right parts has been. Nowadays, OEMs are creating industrial machines that address specific challenges. This is where custom CNC machining comes into the picture. Creating large and small parts or parts with complex geometries may not be possible with other machining types or standard CNC machining. However, it becomes easy with custom CNC machining. You can easily create parts that fit into your application.

Ability to Work with a Broad Range of Complex Materials:

Many materials including superalloys such as Inconel, Hastelloy, Incoloy, Rene alloys, Waspaloy require special machining expertise. This is why many CNC machining shops do not work with them. This poses challenges for OEMs who may want to include parts made of these materials. However, the ones specializing in custom machining are the ones that have invested in special equipment that can perform CNC machining of these materials

Short Turnaround Times:

Generally, custom CNC machining is considered for small part volumes. So, you can be assured of short turnaround times, which helps OEMs gain a competitive edge in terms of time-to-market.
Industries That Employ Custom CNC Machining
Custom CNC machined parts are generally employed in the following industries:
Automotive:

This industry is one of the most competitive ones as automobile manufacturers introduce new vehicles every year. These vehicles are fitted with custom-designed parts and accessories to mitigate different challenges.

Aerospace and Defense:

Safety has been one of the key concerns for most OEMs in the aerospace and defense industries. There is a strong emphasis on using parts that ensure safety, comfort, and improved user experiences. To meet this, nowadays, aircraft OEMs use custom machined parts.

Agriculture:

Various types of farm vehicles and farm tools have gained popularity in recent years. Farming equipment OEMs are nowadays using lightweight, yet durable parts made of different materials to improve user experiences and productivity. These diverse requirements are easily fulfilled by custom CNC machining.
If you have been trying to outsource your custom CNC machining requirements, it is important to partner with an experienced CNC machine shop. Princeton Industrial Products, Inc. is one of the experienced CNC machine shop specializing in custom and standard CNC machining services. The company has been delivering customized CNC machined parts to its clients across aerospace, military, and defense, medical and other industries for many years now.