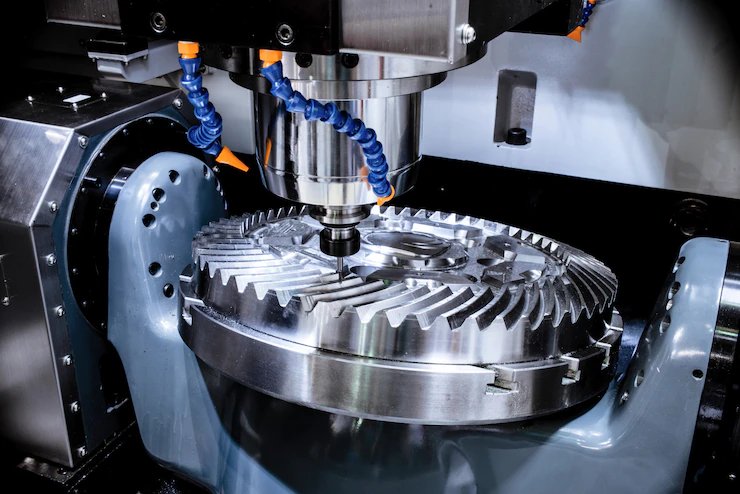 Steel is one of the most popular engineering materials used today. Its versatility and a wide range of beneficial features has contributed to this popularity. Various steel grades have been developed over the years and they are used for making parts in the aerospace, automotive, and robotics industries. These grades have their own advantages and disadvantages and can be machined in many ways. CNC machining is the most preferred machining method among them. CNC machining of steel enables machinists and users to optimize the properties of steel and minimize limitations imposed by each of these grades. You may have several questions in mind such as what are some popular CNC machining steel grades used for building parts? How to choose the right steel grade for your application? Read this post to know these answers and more.
Top 7 Grades of Steel for CNC Machining
Steel is an alloy comprising 1% carbon and other alloying elements, including molybdenum and chromium in small amounts. The properties of steel alter depending on the amounts of components in each grade. Excellent machinability, ductility, weldability, and availability are a few common factors that makes steel a material of choice for several industrial applications. Today, several steel grades are considered for CNC machining however, this section narrows down the list to top 7 for ease.
SS 304:

This is the most common grade of stainless steel used today. The grade is referred to as 18/8 for its 8% nickel and 18% chromium composition. It exhibits excellent mechanical properties, including good machinability and weldability. It offers cost efficiency, and excellent corrosion resistance. This is why it is used in food handling applications for creating utensils and food processing equipment parts, architectural applications, screws heat exchangers, and so on.

SS 303:

This is one of the readily available stainless steel grades, which are used for machining parts such as electronic hardware, bolts, nuts, screws, bushings, aircraft fittings, and more. The steel exhibits mechanical properties such as good corrosion resistance, excellent machinability, and moderate costs.

SS 416:

This grade offers excellent machinability over other grades of steel. In addition to this, the material offers good strength and corrosion resistance. This material is not suited for marine and chlorine environments. It is used for machining pump shafts, valves, gears, bolts, and nuts.

1045:

This is medium carbon steel that exhibits excellent hardness and strength, making it ideal for wear-resistant applications. The machined parts of this material need post-treatment for stress relief. 1045 carbon steel is CNC machined to produce bolts, axles, light gears, forged connecting rods, etc.

1018:

This is mild carbon steel, generally used for creating carburized parts that require excellent weldability and machinability. The grade is known for its moderate mechanical properties such as ductility and strength.

1144:

This is a free machining steel with resulfurized carbon composition and exhibits high strength, good wear resistance, and deformation. The grade exhibits poor weldability, which limits its application. This grade is used to create pistons, gears, screws, rods, and nuts.

4140:

It is low alloy steel featuring low molybdenum, manganese, and chromium. When annealed, this grade exhibits excellent machinability when annealed and offers excellent impact and wear resistance.
Which Steel Grade is Suited for Your Application?
Steel is a versatile material, and most grades share some common properties such as ductility, strength, corrosion resistance, and aesthetic appeal. Having said that, not all grades may be suited for your application. This is where you need to be careful. The following tips will ease your selection.
If your application is operated in marine environments, you need to use SS 304 because it offers excellent corrosion resistance.


If you are considering CNC machining of steel parts for sanitary applications, then SS 304 and 316 are the common choice. They offer corrosion resistance, reliability, and price advantage. Although these grades have limitations regarding certain food ingredients, they are largely proven to be effective.


If you are considering steel for building military and commercial aircraft parts that demand toughness, strength, and fatigue resistance, then 4130 is the best choice.
Although steel assures high machinability than other materials, you need to partner with an experienced manufacturer to get the most out of steel. Princeton Industrial Products, Inc. is a custom CNC machine shop specializing in CNC steel machining. The company has been serving OEM, defense, and electrical contractors by offering CNC machined steel parts for several years. The engineering experts at the company have spent several years understanding the mechanical properties of various steel grades. They can guide you in selecting the right material if you are unclear about the right grade for your parts. Get in touch with the experts at the company to discuss your requirements.