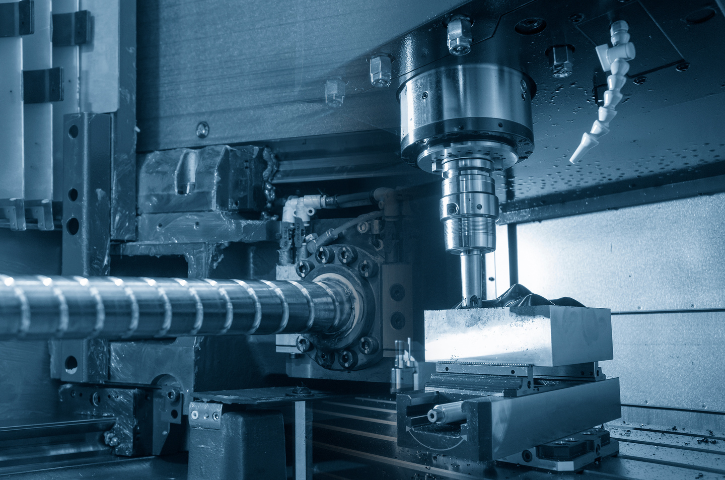 The CNC machining services have been using Swiss screw machines or automated lathes to machine small and complicated parts with high accuracy for several years now. Swiss screw machines, also known as Swiss lathe, are the improved version of the lathe used to create complex parts. What is screw machining Swiss means? Why Swiss screw machined parts are in demand? Read the post to know the answers.
Swiss Screw Machining Discussed in Brief
Swiss screw machining is a specialized machining technique using automated lathes. This lathe usually shapes components by tightly holding a workpiece from the middle and end. This machine is referred to as the Swiss screw machine because it was first used by Swiss watchmakers to create screws for their watches.
There are two main types of Swiss machines, and they are:
CNC Swiss Machines:

They are also known as CNC turning lathes or machines, and are operated and controlled by the computer numerical control unit. These machines can be used to create parts with the highest level of accuracy from 0.0002 to 0.0005 inches. CNC Swiss machines can accommodate more tooling fixtures. They can also feature double spindles that allow the machinist to create a part and perform its secondary operation at the same time without interference.

Automated Swiss Machines:

These machines feature a disc ram, which usually rotates the tools taking them near to the workpiece. The workpiece is usually held in a spindle collet on the machine. The tools are rotated in radial motion to overcome their longitudinal discrepancies. The spindle collets are located closer to machines and help prevent debris from causing worry to machinists.

6 Reasons Why Swiss Screw Machining is Preferred Over Regular CNC Machining or Traditional Manufacturing

In recent years, Swiss screw machining has emerged as a popular machining choice for creating small parts with complex geometries. The following benefits substantiate the reasons for changed preferences among manufacturers.
Design Versatility:

The machines can easily create components, such as screws with multifaceted structures, which otherwise require lots of effort and machining. Design versatility offered by these machines makes them popular among manufacturers serving clients with unique components with complex part geometries.

Material Compatibility:

Swiss screw machines can accommodate many materials, including metals, exotic metals, and plastics. For instance, an automatic screw machine can accommodate standard metals such as aluminum, bronze, brass, carbon steel, cold rolled and stainless steel, as well as exotic materials such as Inconel, Monel, molybdenum, and Hastelloy; and plastics like Delrin, nylon, Teflon, polyethylene, and so on. All these materials can be formed with extreme precision. If your application requires multiple parts made of different materials, it can be easily made using Swiss CNC machining. All these parts can be easily created in the same machine by reconfiguring them as per the requirement. This versatility allows manufacturers to choose these machines for completing complex projects that may require multiple materials.

Can Accommodate Several Types of Cutting Tools:

Swiss screw machines can accommodate different cutting tools used for various machining operations.

Excellent Control Over the Process:

Be it automatic or CNC screw machining Swiss, both incorporate automated mechanisms, which are controllable by machinists. This allows machinists to achieve tight tolerances and high precision.

Suited for Various Production Sizes:

Swiss screw machines are suited for various production sizes. It doesn't matter whether you are looking for small, mid-sized, or large production volumes, these machines are the best. Generally, they are preferred for large production volumes. Once the machine is set, then it can be operated continuously. As these machines can incorporate multiple spindles and cutting tools, a single pass often becomes sufficient to produce near net parts.

Cost Effectiveness:

Swiss machines can be fitted with special attachments to produce secondary finishing operations, which helps assure better cost effectiveness.
It is quite easy to find Swiss screw machining services around you today. Remember, not all of them may be genuine or experienced as they sound. As the first part of the research, you can check their website and discuss your requirements with them. You can proceed if they can offer you help to meet your specific requirements uniquely. You can also check for references, if any. Princeton Industrial Products, Inc. is one of the popular Swiss CNC machining services in the US. The company uses automatic screw machines to manufacture precise parts in large volumes. They use single and multi-spindle machines with special attachments to perform many secondary operations, which helps eliminate any need for additional operations. You can contact the team at the company to discuss your special Swiss machine product requirements.